Export Lotus Notes Database
Export Lotus Notes Database Information to Microsoft Outlook PST
Export Lotus Notes Database with Alacrity
Lotus Notes conversion is no more a tedious task…In fact, it is now very easy to convert NSF to PST with Export Notes.
Do you need to export Lotus Notes because you are facing trouble in managing email elements in Lotus Notes because of short working knowledge of it and there are other options like MS Outlook which are known to be much easier to operate and manage?
Do you wish to export Notes because you have switched your job and the new company has Outlook environment unlike Notes in the previous one?
Do you want to export Lotus Notes Database because your employer has changed the email client in the office from Notes to Outlook?
Do you require to export Lotus Notes Database to Outlook because either you have Notes in office but Outlook at home or Outlook in office but Notes at home?
Do you wish to convert Lotus Notes emails to Outlook because surely you cannot go on with one email client (Lotus Notes) throughout when there are other options (like MS Outlook) available?
Do you need NSF to PST conversion because you need to have offline access to all existing mails which is difficult with Lotus Notes application but easier with Outlook?
For any of these or other reason if you want to convert Lotus Notes emails to MS Outlook PST format, then you must choose the right Notes migration tool for converting NSF to PST. Choosing the right software for NSF to PST conversion will not only help you with the conversion process but will also save you from any data damage during conversion. One such software solution that assures of FULL SATISFACTION AND NO REGRETS is Export Notes. It is a simple and intuitive tool to export Lotus Notes database to Outlook PST. Your data is safe with us and the software is blessed with such an interactive interface that understanding the screen instructions and following the conversion steps in a cakewalk for anyone.
Export Lotus Notes Database Utility: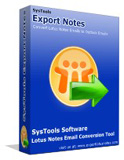 Export Notes
Export Notes is a email conversion tool which successfully export lotus notes database to microsoft outlook pst file. Software does not require any technial skills to convert nsf to pst with all of its emails, address book, contacts, calendar, to do list, journals.
Significant Features of Export Notes
Here are some of the significant features that make this software an ideal choice to export Lotus Notes database:
Complete conversion ensured – All email items of Notes NSF like mail messages from all folders (Inbox, Outbox, Drafts etc) with all email properties (like To, CC, BCC etc) and all other items (like journals, calendar, contacts, attachments etc) are converted to PST.
Batch conversion ensured – Multiple Lotus Notes NSF items can be converted at one time.
Encrypted files and mails conversion ensured – This Lotus Notes conversion software can convert encrypted NSF files and encrypted emails from Notes NSF to Outlook PST.
Comprehensive conversion ensured – All MS Outlook versions 97 and above (2000, XP, 2003, 2007), Lotus Notes versions 8.5, 8.0, 7.0, 6.0 and 5.0 and Lotus Domino server (8.0, 7.0, 6.0) are supported.
Software and data safety ensured: Export Notes software is free from viruses.
Domino Server Mailbox conversion ensured: Domino Server Mailboxes can also be converted using the software (Note: Closing the Domino Server while converting NSF to PST is must)
Demo version for FREE evaluation
Don't pay a penny and check the software by using the fully functional Demo version which is FREE. You can download it online and can convert 15 items per folder from NSF to PST using this Demo. For complete conversion, get the Full version.
Full Licensed version for Full conversion
Convert ALL email items from Lotus Notes to MS Outlook PST using the Full licensed version of Export Notes software. Personal License is for $149 and Business License is for $500.
Support for query solution
Support is always active!
You can contact the support team by emailing or by doing online live chat with the support professionals of , whichever you are comfortable with. Your queries will be answered speedily whether you contact us via mail or chat.

or
Support Help Desk

Need Technical Support?
Contact our support help desk for technical support 24x7.
Awards & Reviews