Export Notes Address Book to Excel
Convert Names.nsf File to Excel - Notes to Excel
Export Notes Address Book to Excel
A Notes to Excel is a resourceful application program which can swiftly transfer Lotus contacts to Excel File.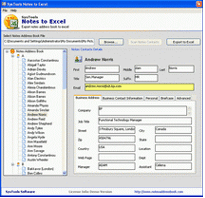 Strengthened Handling Process - Pentium or compatible system with at least 256 MB RAM


Reinforced Managing System - Suitable With Windows 2000, XP, Vista.


Application Info
Lotus Notes 8.0,8.5, 7.0, 5.0 &6.5
Notes to Excel converter software slickly export Notes Address Book to Excel and saved Names.NSF file into Excel file format.
Key Features
Easy Customer Interface: Application provides easy & simple customer interface that motivate beginner to use the application confidently.
Export Names.NSF into Excel: Notes to Excel quickly converts Lotus Notes Contacts to MS Excel File. Software make Lotus Notes Contacts to be easily readable using MS Excel.
Convert Lotus to Excel with errors: Software supports Notes Address Book Conversion to Excel even if problems is: "You are not authorized to perform that operation: ...names.nsf".
Software easily support Lotus Notes version convert Names.NSF File contacts list into .XLS(.XLSX) format with 3 easy steps:
Browse Names.nsf file
Search Lotus Notes Contacts
Transfer to MS Excel

Client Testimonials
You have excellent utilities. Thanks for letting me try the software. It is a great program. I will grade you +AAAAA.
- Jim Dawson