Recover SQL Data Software
Recover Tables, Constraints, Default rules, Triggers, User Data Types etc
Recover SQL Data Perfectly Using a Perfect SQL Recover Tool
SQL Recovery software is the perfect tool to Recover SQL MDF File most skillfully and up to your satisfaction. Microsoft SQL has great use in many functions of organizations. This indispensable Server is used to create databases, maintain them and other operations. This Server is the single most application used in many organizations for successful handing of essential databases. This is the reason behind the grave importance of mission-critical MDF files of SQL Server whose loss can curb the crucial work of a company.
Updated Version 5.0 - New Version of SQL Recovery Software: In this new version we have added "Save Scan" file option (You can save the scan file using the demo version and can load that scanned file into Full Version. There is no need to scan that file again with Full Version).
Recover SQL Data Tool: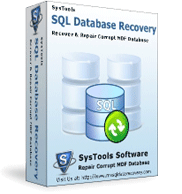 SQL Recovery Tool
Get the fully-functional FREE Demo version of SQL Recovery tool by downloading it online.
It is recommended that you BUY the software after you are completely satisfied with the demo version
Supported versions of SQL and Windows
Data from corrupt SQL MDF files created using SQL Server 2000, 2005 and 2008 can be recovered.
Windows OS versions supported by SQL Recovery tool are Windows 98, ME, NT, XP, 2000, 2003 and Vista.
SQL corruption - Safeguard efforts can go in vain!
No matter how many data safeguard efforts are employed by the Database Administers to protect the vital MDF files data, still some corruption bug can bite the MS SQL Server. These corruption bugs can grow in scenarios like Virus attack, Trojan infection, improper shutting down of the system, software failure, hardware malfunction and other such unpredictable circumstances. When the corruption cloud engulfs SQL Server application, it tends to make the files inaccessible by the users and prompts error messages on the screen when user tries to open any corrupt MDF file. The need to recover SQL Server then takes birth.
Simple safe and sound solution to recover SQL data
MDF corruption is surely a cause of great concern but there is a solution that can render respite and can end edginess and that is SQL Recovery tool to Recover SQL Data. This is a great tool to recover SQL MDF file data most efficiently. The software uses high-end techniques to dig out data from damaged databases dexterously. Usage of advanced techniques does not imply that using this tool will be equally technical and difficult for you. In fact it is the total reverse. Using this software to recover SQL data file is extremely easy because of the self-descriptive interface that shows self-explanatory instructions for the SQL database recover process.
Errors encountered after SQL corruption
When MS SQL Server corrupts, you might come across any of the following or some other error:
Server can't find the requested database table.
Database in "suspected" mode or Internal error.
The file *.mdf is missing and needs to restore.
The process could not execute 'sp_replcmds' on server.
The conflict occurred in database 'db_name', 'table_name', 'column_name'.
SQL Recovery software is the easiest, safest and finest option!
Talking about ease and simplicity, Software products are simple and intuitive in nature. Today, it is a well-known fact that easiness is synonymous to software products. Anyone can recover MDF file with satisfactory recovery results using SQL Recovery tool easily. You do not have to think - How to recover SQL data using this software? The steps are easy but if you still have problem, then you can read the steps along with screenshots on the websites and in the software help manual. Still if you have problem, then support team is always active for your help. Also the data accurateness is maintained by the software i.e. original data of the corrupt MDF files is not altered during the recovery process. This SQL Recovery software is the finest solution to recover SQL data.
Features floor of SQL Recovery tool
The floor of features of SQL Recovery software is very vast. Some of these features are:
All corrupted MDF records are saved into a separate SQL script file.
Software ensures complete recovery. Stored procedures, views, tables, tables' data, constraints, values, functions, stored procedures, default rules, triggers, all data, checks, user data types etc can be recovered. Also, unique keys, foreign keys, primary keys etc can also be recovered.
Software provides the preview of recoverable items along with the Meta data information also.


Support Help Desk

Need Technical Support?
Contact our support help desk for technical support 24x7.